FOLIATEC
FOLIATEC EXHAUST SPRAY 2K, BLACK GLOSSY, SPRAY 250ML
Ref: CARPLUS F2125 - EAN: 4002581021258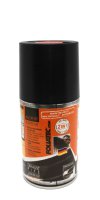 FOLIATEC Exhaust Spray 2k, Black Glossy, Spray 250ml is added to your shopping cart .
Reflection period 14 days
Free shipping from € 50.00 (BE)
Thanks
Thanks for your interest in FOLIATEC Exhaust Spray 2k, Black Glossy, Spray 250ml.
We'll contact you soon.
Using the Foliatec 2-component heat resistant paint, you will give your exhaust a sporty and stylish appearance. This heat resistant paint is resistant to high temperatures, oil and chemical products. Thanks to the 2-in-1 paint system your exhaust pipe gets a durable and glossy black color. This spray is very easy to use, just push the red button, shake and spray.



Features:

- Heat resistant paint

- Especially for exhausts

- 2-components

- Color: black shiny

- Durable

- Robust

- Drying time: 24 hours

- Contents: 250ml



Instructions for using the 2K aerosol can:

◘ Shake the can well for 2 minutes

◘ Remove the red cap from the cap

◘ Place and press the red cap onto the pin at the bottom of the spray can

◘ Shake well again for 2 minutes

◘ The spray can is now ready to spray



Tip:

1) First clean the surface and remove rust.

2) Spray 2 to 3 layers with an interval of 10 to 15 minutes.