SOLUX
SOLUX WINDOW FILM CAR BLACK 15% - 0.76*2M SCRATCH FREE
Ref: CARPLUS ZG15SL - EAN: 5414139117334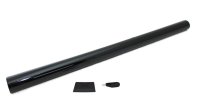 SOLUX Window film car black 15% - 0.76*2m scratch free is added to your shopping cart .
Reflection period 14 days
Free shipping from € 50.00 (BE)
Thanks
Thanks for your interest in SOLUX Window film car black 15% - 0.76*2m scratch free.
We'll contact you soon.
Solux window film is ideal for darkening car windows and giving your car a stylish look. Car window tinting has never been easier thanks to this set. Darken the car windows of your car to the desired darkness level. Sunscreen not only keeps the heat out but also provides protection from unwanted eyes. Protect your belongings and increase your privacy in an easy way.

Included with the self-adhesive film is a knife and a spatula so you can get started right away.



Features:

- Sun protection film / blackout film

- Scratch resistant

- Self-adhesive

- Easy to apply

- Black

- 15% light transmission

- Height: 76 cm

- Length: 200 cm

-
Includes spatula and knife


How to start:

1. Clean and grease the window, use: Glass cleaner, glass cleaner or Vitro-car cleaner (META 70-50)

2. Cut or trim the window film to size. Tip: Make sure the film is 3 to 5 cm larger than the window.

3. Moisten the window with (soapy) water
.
4. Remove the transparent layer from the film

5. Place the film with the adhesive layer on the wetted surface and slide the film in the right place
.
6. Press the foil and use the spatula to fix the foil

7. Dry the foil

8. Cut off the excess foil with the knife

9. Using the spatula, rub all air bubbles and water out of the foil (from inside to outside)

10. Done!