CARPOINT
CARPOINT ASHTRAY RECTANGULAR WITH CHROME LID, 9X5X4CM
Ref: CARP 0581032 - EAN: 8711293005338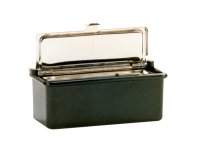 CARPOINT Ashtray Rectangular With Chrome Lid, 9x5x4cm is added to your shopping cart .
Reflection period 14 days
Free shipping from € 50.00 (BE)
Thanks
Thanks for your interest in CARPOINT Ashtray Rectangular With Chrome Lid, 9x5x4cm.
We'll contact you soon.
Add a touch of vintage charm to your car interior with our retro ashtray, equipped with a stylish chrome lid. This practical and elegant solution is perfect for smokers who want to keep their car tidy.



Discover "retro ashtray for car" - the perfect combination of style and functionality. Are you a smoker and looking for an "ashtray with chrome lid"? Our rectangular, removable ashtray is just what you need to keep your car neat and odor-free.



Thanks to the "lockable chrome lid," ash and unpleasant odors are kept safely inside, while the "vintage design" is a stylish addition to your car interior. In addition, this ashtray is "easy to clean," "removable" and "easy to attach," making it a user-friendly option for any motorist.



Features:

- Chrome Lid:

The shiny chrome lid is not only an eye-catcher, but also functions as an effective sealer, keeping ash and odors neatly inside.

- Easy to Attach:

Choose simplicity with our double-sided adhesive tape or go for stability with screws. Both options ensure secure and sturdy attachment of the ashtray.

- Removable and Easy to Clean:

The ashtray is easily removable from the mounting plate for quick, hassle-free emptying and cleaning.

- Compact Size:

Measuring 9 x 5 x 4 cm, this retro ashtray easily fits into any car interior without taking up much space.