FOLIATEC
FOLIATEC BRAKE CALIPER PAINT 2K, BLACK MATT, SPRAY 400ML
Ref: CARPLUS F2129 - 4002581021296
FOLIATEC
FOLIATEC BRAKE CALIPER PAINT 2K, BLACK MATT, SPRAY 400ML
Ref: CARPLUS F2129 - EAN: 4002581021296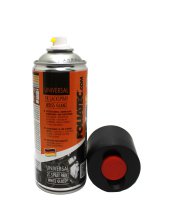 FOLIATEC Brake caliper paint 2k, Black Matt, Spray 400ml is added to your shopping cart .
Reflection period 14 days
Free shipping from € 50.00 (BE)
Thanks
Thanks for your interest in FOLIATEC Brake caliper paint 2k, Black Matt, Spray 400ml.
We'll contact you soon.
Foliatec 2K Black Matt caliper paint is specially designed to give calipers a visible and sporty color. The paint is fast drying and has a good hiding power which allows you to work very quickly and efficiently. The paint is resistant to high temperatures, oil and chemicals. Thanks to the 2-in-1 paint system, your brake parts get a durable and exclusive look. This spray is very easy to use, just push the red button, shake and spray.



Features:

- Caliper Paint

- Color: Black matte

- 2-Component

- Heat Resistant

- Robust

- Durable

- Resistant to chemicals

- 400ml



Instructions for using the 2K aerosol can:

1) Shake canister well for 2 minutes

2) Remove the red cap from the cap

3) Place and press the red cap on the pin at the bottom of the aerosol can

4) Shake well again for 2 minutes

5) The spray can is now ready to spray



Tip:

◘ 1 400ml spray can covers up to 4 calipers.

◘ First clean the surface, remove rust and degrease.