KEMO
KEMO MARTEN REPELLENT FOR CAR 12V WITH ELECTRO-PLATES AND ULTRASONIC SOUND
Ref: TEG M186 - 4024028031866
KEMO
KEMO MARTEN REPELLENT FOR CAR 12V WITH ELECTRO-PLATES AND ULTRASONIC SOUND
Ref: TEG M186 - EAN: 4024028031866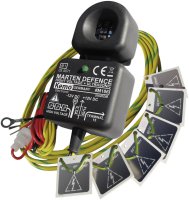 KEMO Marten Repellent For Car 12v With Electro-plates And Ultrasonic Sound is added to your shopping cart .
Reflection period 14 days
Free shipping from € 50.00 (BE)
Thanks
Thanks for your interest in KEMO Marten Repellent For Car 12v With Electro-plates And Ultrasonic Sound.
We'll contact you soon.
With this autonomous repellent you protect your car from damage caused by martens. Thanks to this device, martens stay away so they can't cause damage to your vehicle's wiring.



The device from KEMO chases away the marten with ultrasonic sounds and high voltage plates. The ultrasonic sounds change frequency and interval so the martens don't get used to the sound. The current plates will cause the animal to receive a slight shock on contact even though it is not touching a metal surface, think of electric fence. The ultrasonic sounds are not perceptible to the human ear.



The marten deterrent should be connected to the car battery and automatically shuts off at a voltage of less than 11.5V so that this device does not drain the battery if the car is stationary for a long period. Thanks to the switch, the repellent can also be switched on manually. This unit should be installed in a dry place and should not come into contact with water or dirt.



Features:

- Marten deterrent

- Features ultrasonic sound and 6 high-voltage plates

- Connects to the battery of the vehicle

- Equipped with security function so that the vehicle battery is not drained

- Current consumption: 5 mA

- Output voltage: 200 - 300 V/DC

- Equipped with fuse: 500mA

- Ultrasonic frequency: 22 kHz +/- 10%

- Sound: max. 100 dB +/- 15%

- Reflection angle: 150°

- Equipped with led indicator

- Temperature range: -25°C to + 80°C

- Hallmark: CE

- Module dimensions: 125 x 70 x 31mm

- Shock plate dimensions: 40 x 40 x 15 mm

- Cable: 4 m



Tip: If you wish to use this unit on 24V then you need converter M020.